Tabor Tools
TABOR TOOLS GG12A Professional 30" Compound Action Anvil Lopper
Regular price
$59.49 USD
Sale price
$52.99 USD
Unit price
per
Sale
Sold out
Tabor Tools GG12A 30" Professional Compound Action Anvil Lopper, Chops Thick Branches With Ease, 2-Inch Cutting Capacity, Features Sturdy Extra Leverage 22" Handles
CHOPS THROUGH 2" BRANCHES effortlessly. This KING OF LOPPERS will allow for fast removal of dry and woody growth and is the ideal tool for preparatory cuts and cut-to-length work. The lopper is designed and built for professional grade applications and makes cutting dramatically easy through extra leverage and compound action power!
SHARP HARDENED CARBON STEEL BLADE will stay sharp, even after some heavy use! The low-friction non-stick coated gliding blade make every cut a joyful experience. The tools is easy to use, even for the elderly gardener or if you have arthritic wrists. There's no cut you can't make with this KNIGHT'S BLADE!
COMFORT GRIP. The rubberized grips on handles provide comfort and good grip. This longer 30" model will allow you the work with some extra strength and leverage and to efficiently navigate around higher limbs. The ergonomically handles are designed for optimal grip to ease cutting of any branch. Overall, this balanced, powerful and dependable tool which will soon become YOUR BEST FRIEND IN THE GARDEN.
ORDER WITH CONFIDENCE. The Tabor Tool customer satisfaction guarantee means exactly that. We will fix any problems quickly and answer to your need every time. We are always available to help our customers; our service record is unmatched!




HAPPY GARDENING!

There's No Cut You Can't Make!

When pruning larger, tougher branches, a confident gardener needs a tool fit for the task. The Tabor Tools GG12 Anvil Lopper offers superior performance rooted in decades of gardening expertise.
This lopper is meant for pruning dry & woody growth branches up to a diameter of 2". Suitable for cut-to-length work and preparatory cuts and before making a final, clean cut with bypass loppers.
This tool has been designed with comfort and functionality in mind, featuring ergonomically contoured grips, innovative mechanisms, and coated blades for a sharper, longer lasting cut. The compound action blade has multiple moving parts which multiplies the force applied to the blades 3 times! 

This item is durable and features precision-ground razor sharp blades that cut through the toughest of branches fast, and a compound-action lever system. The coating on the blades keeps them sharper for longer and make them resistant to corrosion. The comfortable, ergonomic grips also ensure a balanced weight across the tool.

There's no cut you can't make! ​This power-house tool enables users to tackle heavy-duty cutting jobs well without straining or expending a lot of energy.

Compound Action System

The compound lever system with multiple pivot points and moving parts increases the force applied to the blades. 

This will allow you to tackle heavy duty pruning jobs without fatigue in arms and shoulders!

30" Handles with Comfort Grip 

The handles of this pruner have a soft grip handle cover for increased comfort and optimum performance.

This lopper is 30-Inch long! Lopper length affects the amount of leverage you have – longer loppers give you more leverage, making it easier to cut through thicker branches.

Anvil Blade

Anvil lopper have one straight blade that cuts as it closes onto a flat edge or 'anvil' (think about it like a knife on a chopping board). These are best used on dead wood or to trim back live wood before making a final, clean cut with bypass loppers. Because of their design, they can often cut thicker branches than bypass loppers.

Color: Red&Black

Item Dimensions: 1.18 x 10.63 x 30.71 inches

Item Weight: 3.75 pounds

Model Number: GG12
Share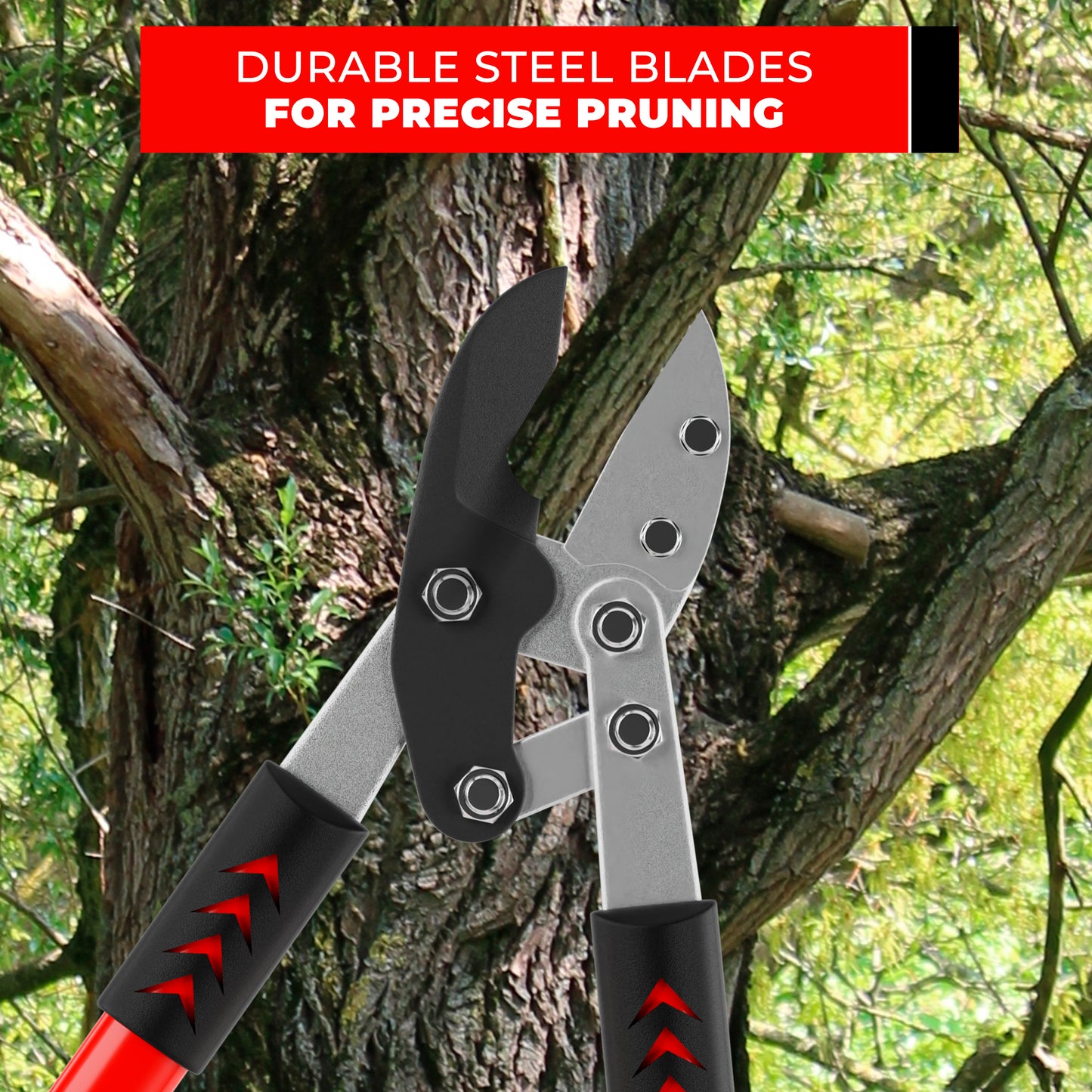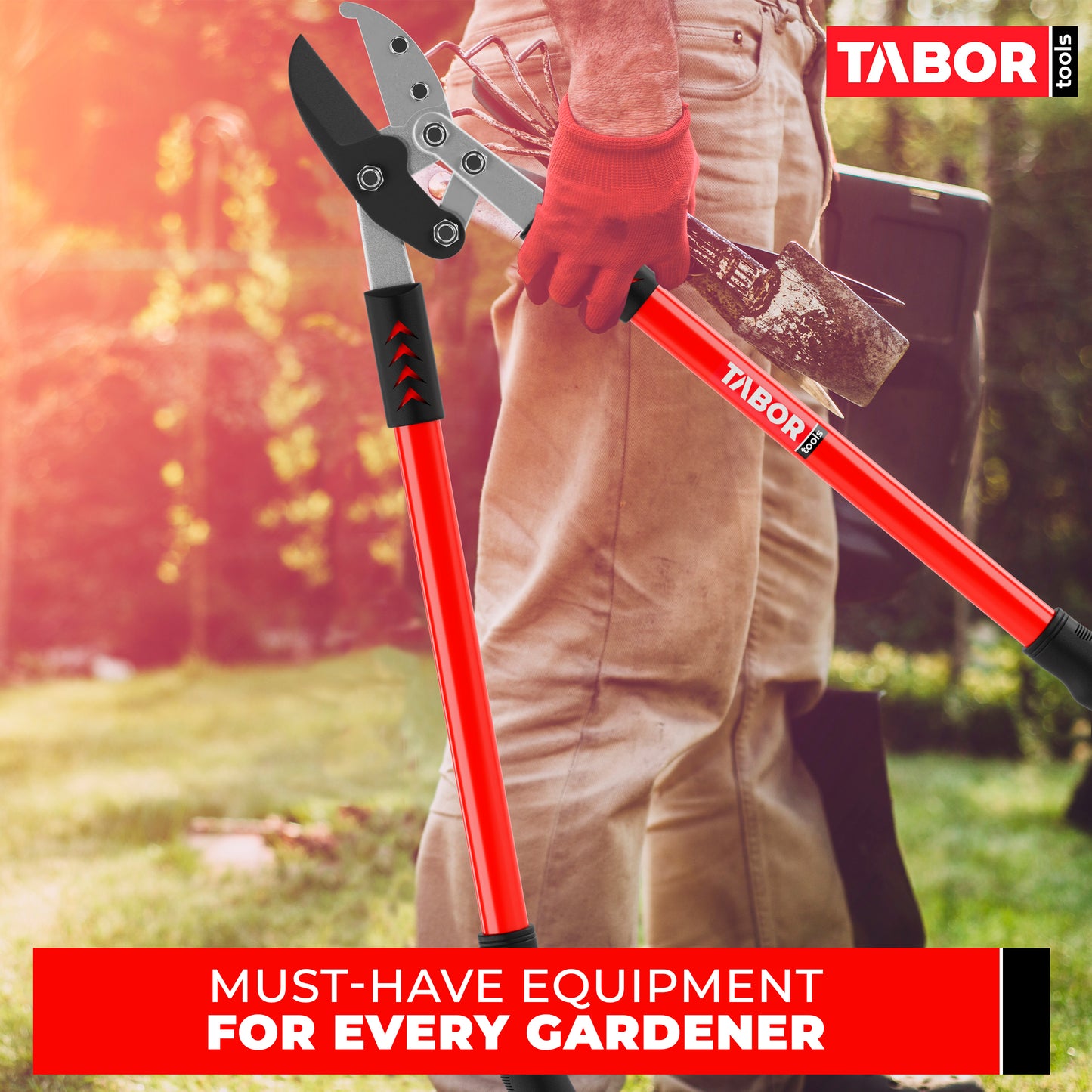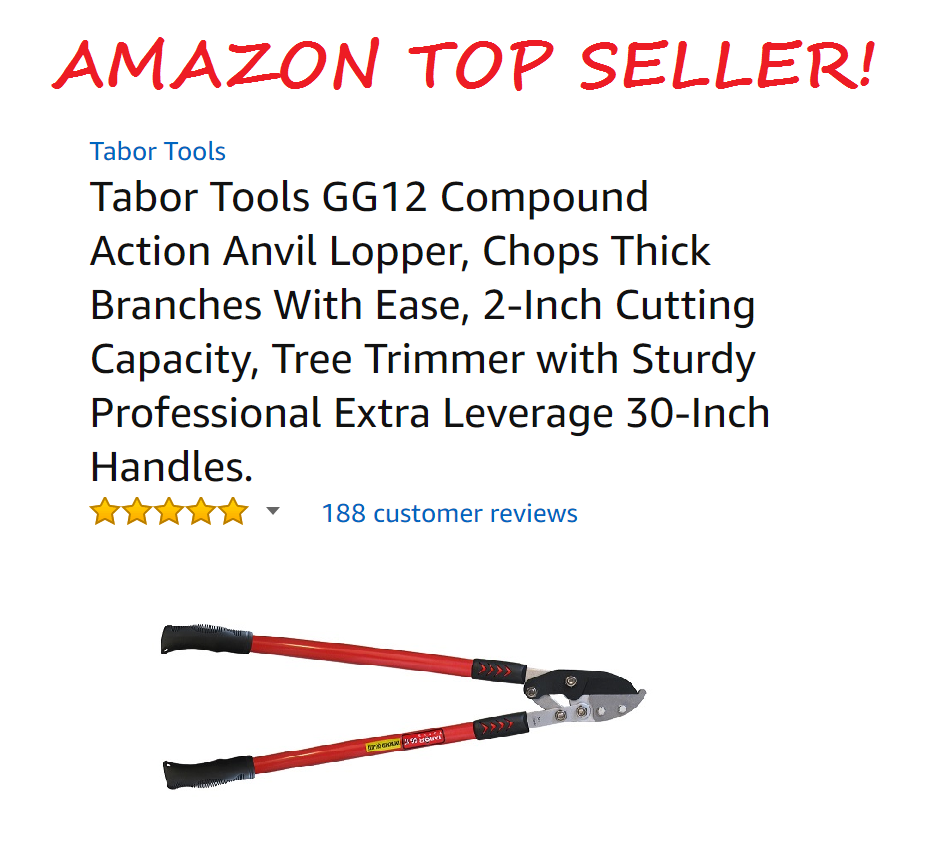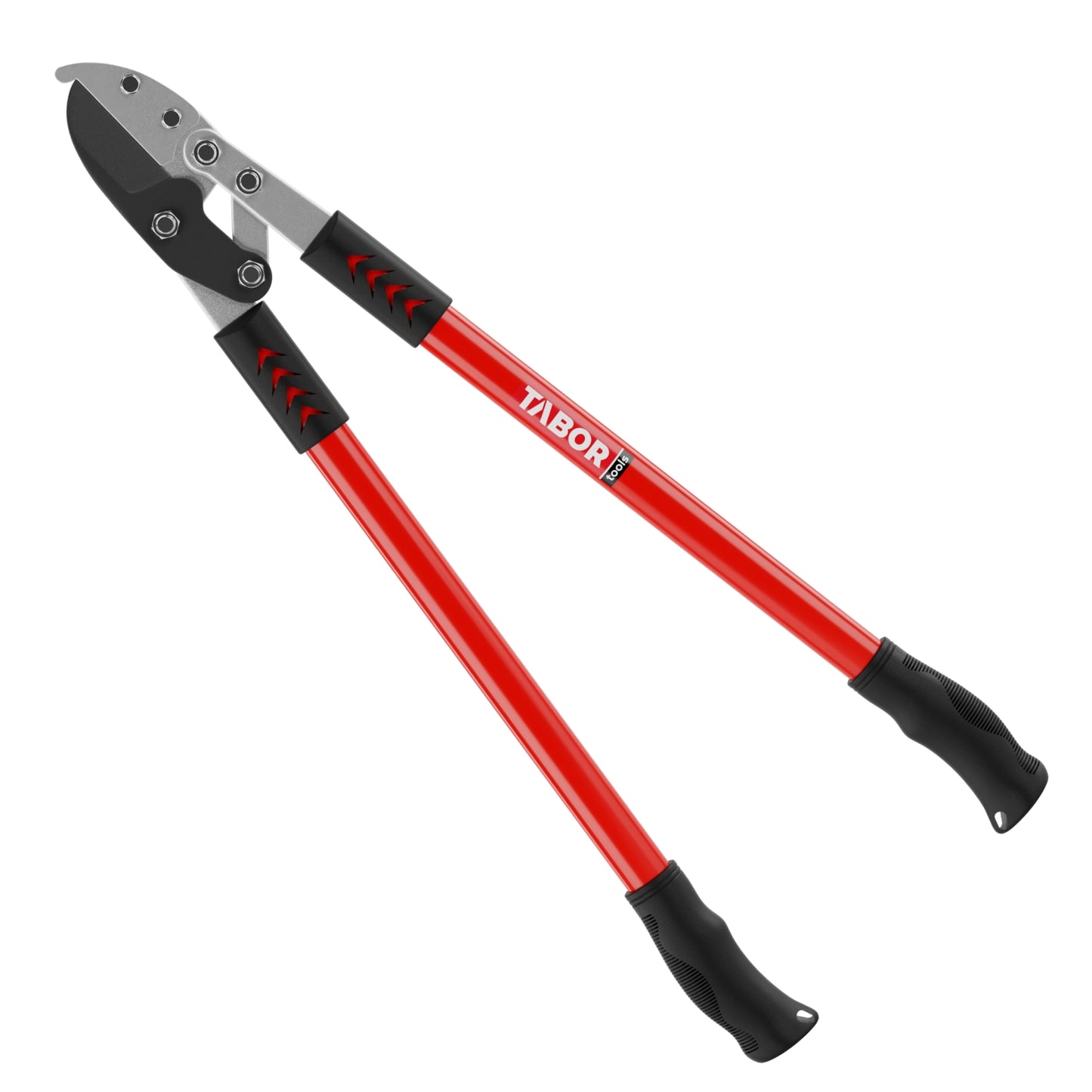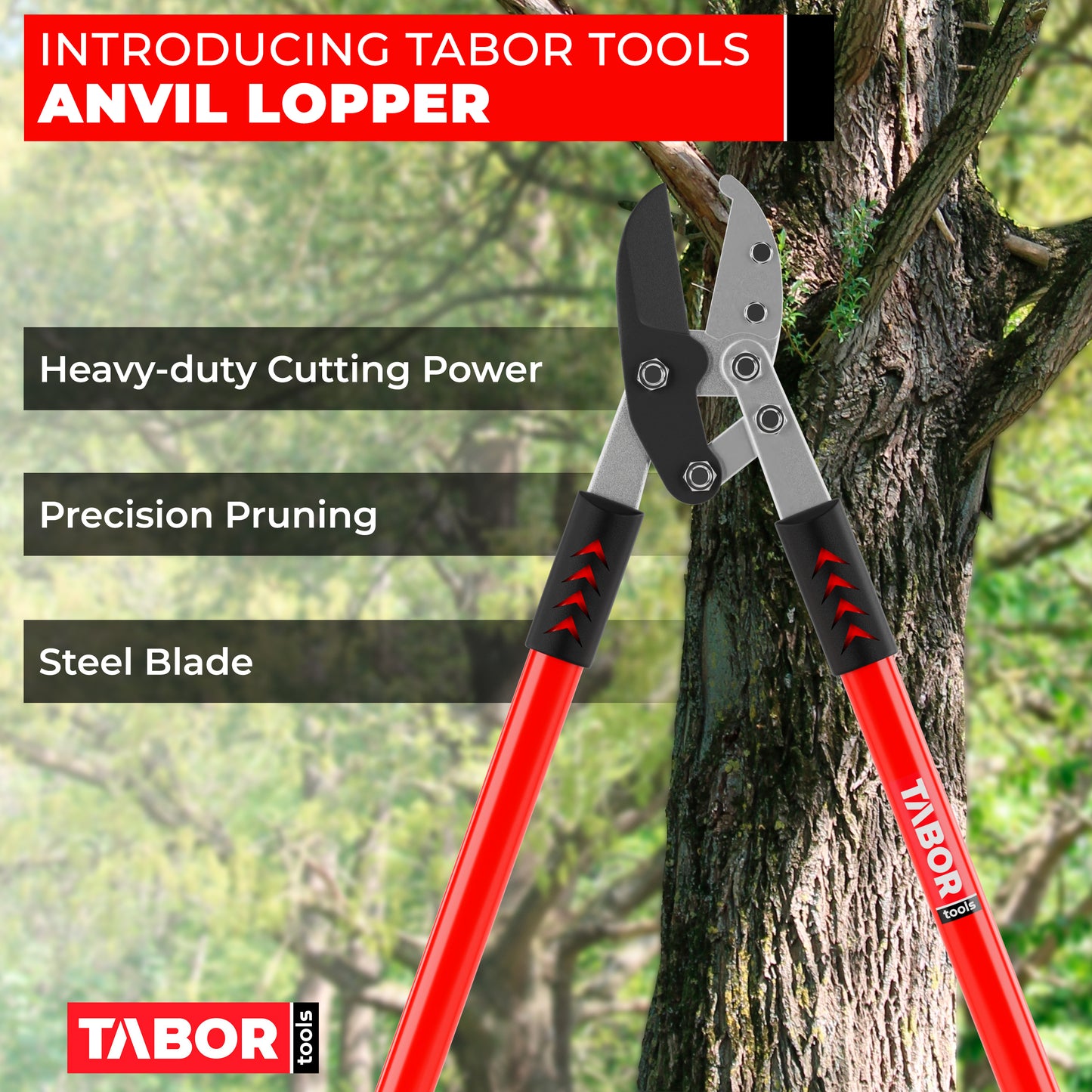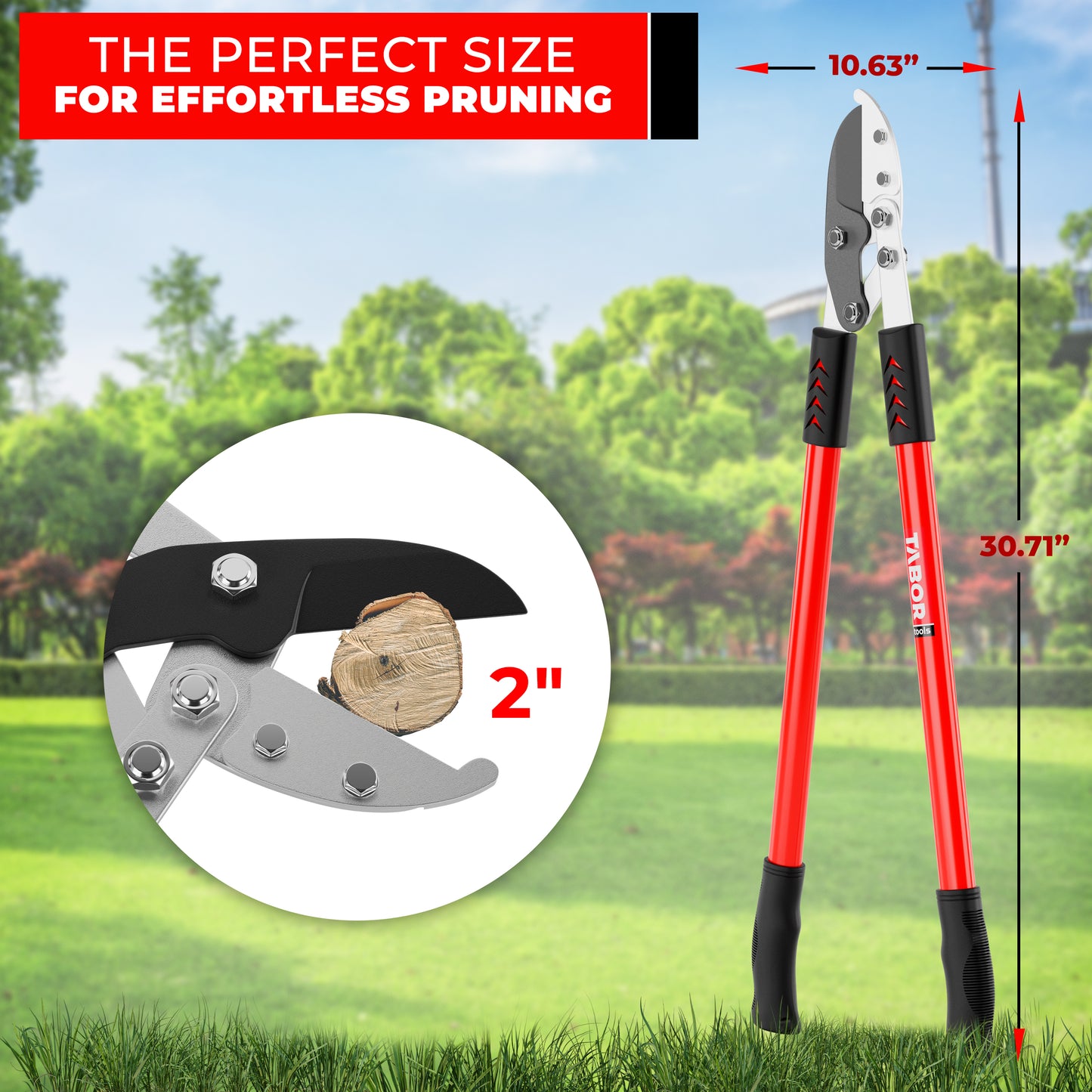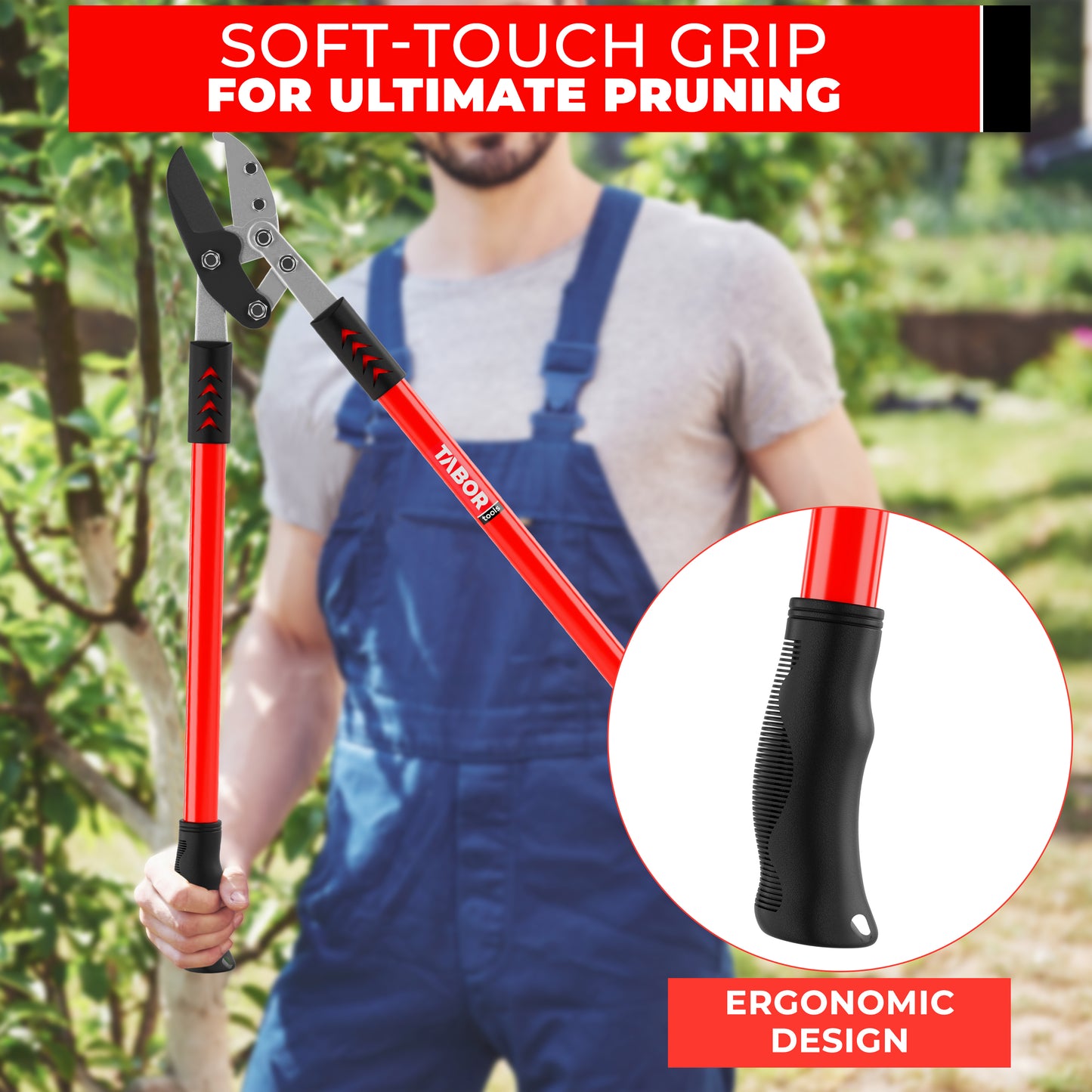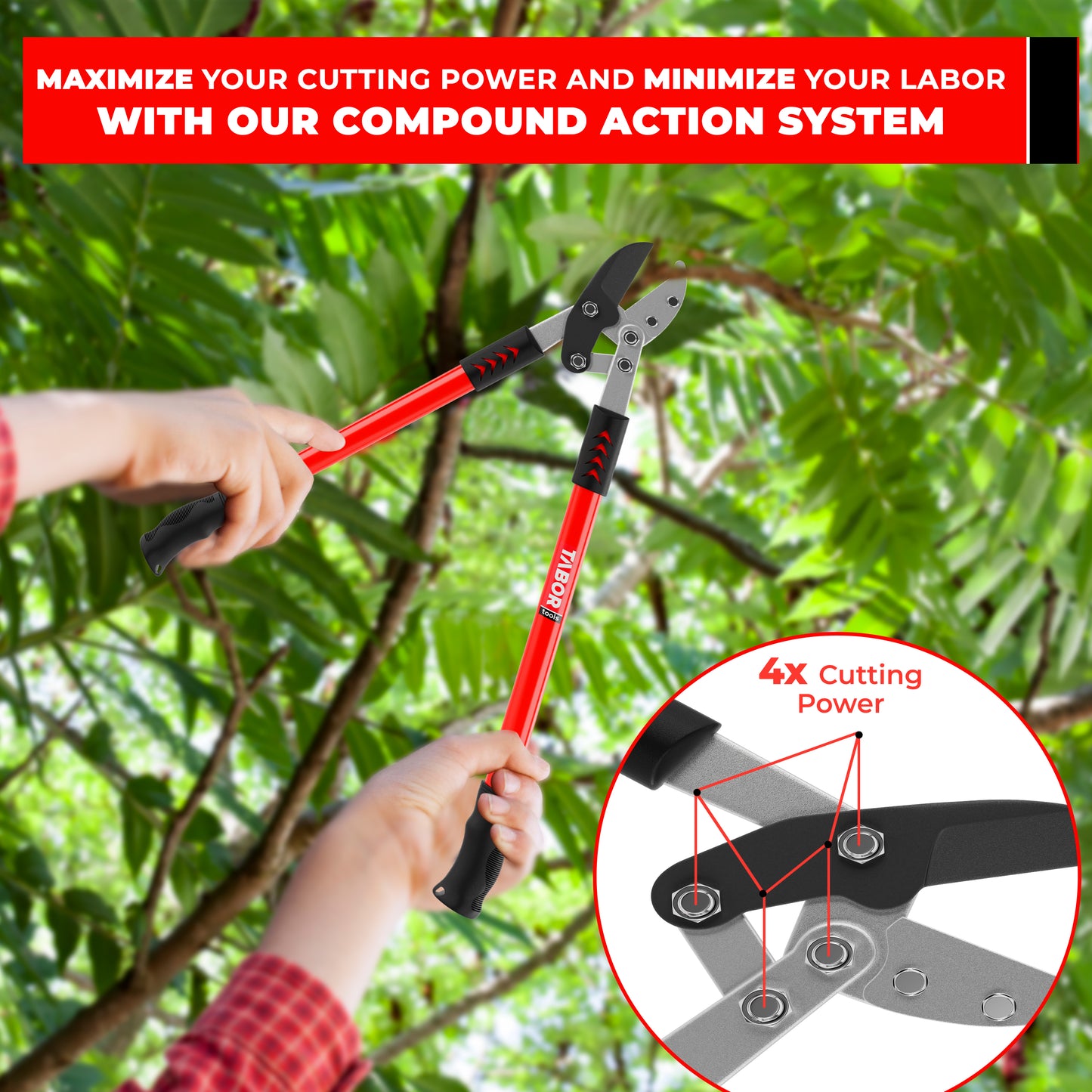 Great tool
Shipping was lightning fast. This cuts thick branches. I love it.
Very good loppers, but you can't order a replacement/spare blade...
Really nice tool, and does a great job. However, the seller is out of stock on replacement/spare blades for it...so, it loses a star for that. Tabor: you have these loppers in stock, how can you be out of replacement blades? Not good business.
Good cutter
I have only used on a few branches so far, but they were oak and cut easily. This is my first larger anvil cut loppers and happy with them.
Great product
I do a great deal of Lopping on my property. These Loppers are excellent! Sturdy and cut right through large branches. Best Loppers I have owned!